For bragging rights only.
Is
@Yoda
for real? Or are he and his picks like the Canucks racking up regular season president cup banners only to go out in the first round of the playoffs.
Were the veteran teams of
@Regs
,
@BJB
@oldtimer
holding back in the regular season to make sure there was something left in the tank for a long playoff run?
Will
@The Franchise
have anything to cheer about in the second round?
Does
@dezza
strategy of throwing darts payoff when It counts.
Can
@Sniffer
explain and clarify how he came up with his name????
@Dude
Do you even give a shite?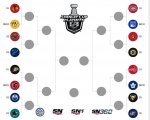 Last edited: