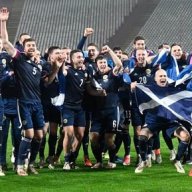 Est

Jul 20, 2001
Messages

481
Reaction score

30
Location
Tokens
Dirty Money
WAB,

I had to start this thread because of your team, sorry ?!?!?! It's funny because I was out with one of your players the other night, she was supposed to sign up here as well, and we were talking about her team. I knew she played for a Div 1 Surrey team and occasionally played for the premier team but didn't know their team nickname. When she told me it was the Beavers I was on the floor LMAO !! I asked her WHY ?? She didn't know and proceeded to tell me that they don't go by the Beavers, they refer to their team as SBSC (or SBFC ??).

Anyways, that has to be up there with one of the mingingest(is that a word?) team nicknames !!

Any others out there, I have a few more but want to see what everyone else has.

Cheers, mackers.

PS. Moosehands, where are you ?? If you need help, call me !!