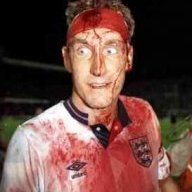 Est

Dec 4, 2001
Messages

2,348
Reaction score

597
Location
Tokens
Dirty Money
Van Persie to leave Arsenal ......... for the 'blue' pastures of City perhaps ??
Soccernet.com said:

Robin van Persie has revealed that he will not sign a new contract at Arsenal and expects to continue his football career away from Emirates Stadium.

Van Persie, 28, whose current contract with the Gunners is due to expire in 12 months' time, met with the club's hierarchy over an extension before Euro 2012, with talks subsequently postponed until after the Dutchman returned from his summer holidays.

The striker has had time to reflect on those talks - which he says did not centre on his own personal terms, but rather the direction the north London club is heading - and has now decided not to renew his contract, believing the club do not share his ambitions for the future.

"As announced earlier this year I had a meeting with the boss [Arsene Wenger] and Mr [Ivan] Gazidis after the season," said Van Persie in a statement. "This was a meeting about the club's future strategy and their policy. Financial terms or a contract have not been discussed, since that is not my priority at all.

"I personally have had a great season but my goal has been to win trophies with the team and to bring the club back to its glory days. Out of my huge respect for Mr Wenger, the players and the fans I don't want to go into any details, but unfortunately in this meeting it has again become clear to me that we in many aspects disagree on the way Arsenal should move forward.

"I've thought long and hard about it, but I have decided not to extend my contract. You guys, the fans, have of course the right to disagree with my view and decision and I will always respect your opinions.

"I love the club and the fans, no matter what happens. I have grown up and became a man during my time with Arsenal. Everybody at the club and the fans have always supported me over the years and I have always given my all (and more) on and off the pitch.

"I am very proud of being part of this fantastic club for the last eight years. As soon as Mr Gazidis is back from his two-week holiday in America further meetings will follow and I will update you if and when there are more developments."

Van Persie was named the PFA footballer of the year for his performances last season, which saw him score 37 goals in all competitions for the club.

The striker has been linked with Manchester City, Juventus, Real Madrid and Barcelona since his contract situation became an issue.

Van Persie's exit would continue a worrying trend of Arsenal losing their best players - with Cesc Fabregas and Samir Nasri both leaving Arsenal last summer, after the club lost the likes of Emmanuel Adebayor and Kolo Toure 12 months prior.

The Gunners have already boosted their attacking options this summer - signing Lukas Podolski and Olivier Giroud, in a bid to both improve the playing staff and convince Van Persie of the club's ambition. However, Wenger and Gazidis will now have to decide whether to allow Van Persie to leave for nothing next summer, or cash in on the Dutchman while they still can.