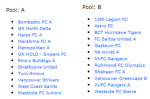 Three weeks from kickoff and the groups are set. This season a seeded draw was used to determine the pools to avoid any teams that may have been trying to manipulate their final standing during the previous season to be in an allegedly "more favourable" group for the following year.
On first look the groups look pretty even, maybe Pool B is slightly stronger, but certainly things are not as skewed as last season.
In Pool A its seems likely to be a two horse race as Metropolitan will look to bounce back at what is now the second time of asking; having missed out on their first attempt at the hands of the then Provincial B Cup Champions, Vancouver Greencaps. It will be a case of deja vu this season as they will once again have the Provincial B Cup Champions to contend with, this time in the form of Vancouver Strikers.
Outside of those two, GN North Delta is a wild card. They were woefully off the pace in Division 1 last season, but did spark to life somewhat at the end of the year. Who knows what kind of team they will field this season, but an immediate return to Division 1 seems unlikely. Harps have had it all come together once previously for a dream promotion season; perhaps lightening will strike once more. Bombastic had a great season last year, though some may argue they benefitted from being in the "weaker" group, so we will see if they can push the top teams again this season.
At the bottom there are obviously the two promoted sides in Strathcona and West Coast who will be looking to avoid the drop and Twin Arrows are seemingly perennial relegation candidates. Also Snipers appear to be on shaky ground. Having once challenged for promotion it has been a steady decline for the UBC based outfit and they really limped to the finish line last year. Their ON HOLD status with the league does little to inspire confidence though it appears they have created a U21 side so maybe that will allow them a bigger roster to pull from.
In Pool B, perennial runners-up 13th Legion will have former Div. 1 sides Shaheen and Gastown to contend with. Relegated Richmond are rumoured to be mostly comprised of their Division 3 side that narrowly missed out on promotion, so they are unlikely to be a factor at the top end of the table.
Wild cards include one time Division 1 side Sarjevo, who, after a dreadful season, have merged with NorVan, so it remains to be seen if that can provide them a solid foundation to kick on from. There is also Sierra FC who are evidently over from the BMSL and, after dominating that league over recent years, have merged with Westside to take over their second Division 2 spot, won by their Div. 3 side last year. Punjab Tigers have come under the BCT banner and are often capable of getting results against anyone in the league, so a good start for them could be a catalyst for a surprise promotion push with the same holds true for FC Serbia.
At the bottom, with promoted Westide now incorporating Sierra, it makes Greencaps B the only real newly promoted side. VanU Rangers narrowly avoided relegation last season via their playoff win, so they will need to be better this year to avoid a similar fate. Astro and Hrvat have been lower mid -able sides in recent seasons and would do well to put a few results on the board early to avoid spending their campaign mired in a relegation battle.